Originally featured on UX Collective on April 17, 2019
Today, I received an email with the subject line, "Why our monthly prices are changing." When I read the subject of the email, I thought that I'd get some transparent and open explanation. I guess I've read too many Medium articles with similar titles, "Why such and such is such." These articles are often filled with insightful explanations often backed up with sources and leave me a little more informed than before. So when Netflix sends an email with such a hopeful subject line, I prepared myself for a "good read."
Sadly, that was not the case here. Below is the email I received from Netflix about the price change. I will explain what Netflix could have done better and why, as a customer, I'm not reassured.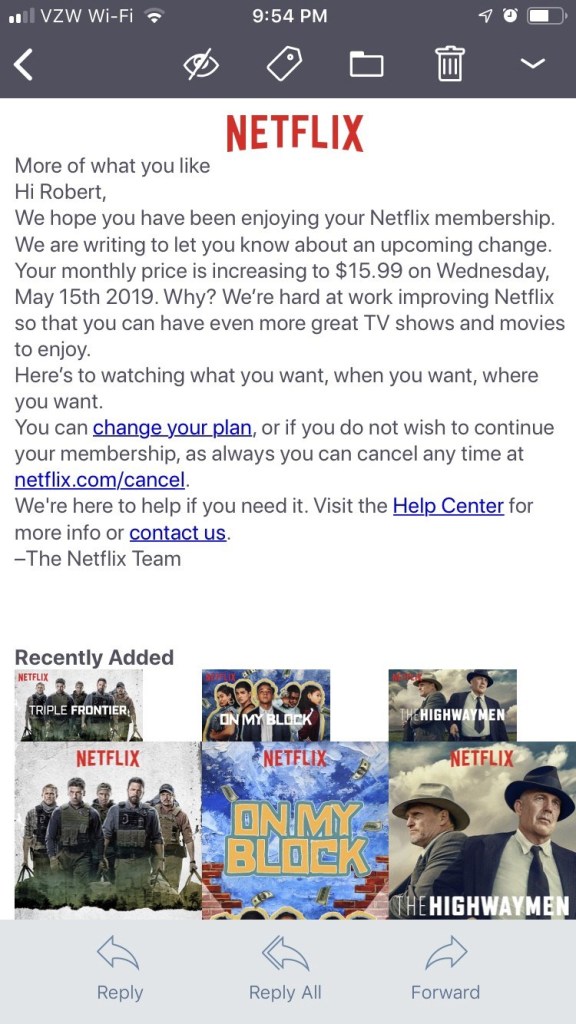 Broken layout
I don't have a well-known email client. I use ProtonMail. I don't usually have issues viewing emails, but there was clearly something wrong with this email. It looks broken. Right above the greeting, there is a line of text, "More of what you like", appearing out of place and is unformatted. The images after the email body appear to show both the mobile and desktop versions at the same time. Everything appears smashed together.
Perhaps this email did not get tested very well. But again, ProtonMail is probably not a client even Litmus has in their test arsenal.
That is not an explanation
The "why" the subject line claims to answer, is not an authentic answer that will reassure any customer:
Your monthly price is increasing to $15.99 on Wednesday, May 15th 2019. Why? We're hard at work improving Netflix so that you can have even more great TV shows and movies to enjoy.
So they're charging me more because they are working harder. This is not a legitimate answer. I obviously use Netflix and the mobile app has received various improvements over the years. The improvements have been well received by me so I agree they work hard improving the product. I have no problem paying for that hard work. My problem is on how they explained the why with marketing speak instead of authentic conversation.
How about saying something like the following?
"Since the last time we increased our prices, we did our very best to make the best product possible so you'd feel it was worth it. We think we've done a pretty good job with X number of new original series, improved matching technology to show you what you're most interested in, and making load times faster with fewer interruptions.
"We have more planned to bring you what you want to watch when you want it. In the coming months watch out for [insert new feature or upcoming shows]."
Give the customer something to look forward to. Surely, Netflix has big plans ahead with other streaming players entering the market (Disney Plus, AppleTV Plus). Revealing what's coming would help soften the blow. It would help me not want to cancel so soon. Which leads me to the next issue.
You're making it too easy to leave
I appreciate when services make it easy to cancel. I groan when I have to search a website about how to cancel only to find out I have to call in and talk to somebody.
What caught my attention about this email from Netflix, is they give almost no explanation about their price increase and then follow it up with:
…as always you can cancel any time at netflix.com/cancel.
Do they want me to cancel or what? This option to cancel makes me doubt if Netflix is worth keeping. If I want to cancel, this should be easy to find when I log into my account whether on the website or mobile app. Unfortunately, there's not even a link in the app that will open my account on the web.
It's great they want to be transparent, but speaking as a User Experience designer I'm not sure this is the approach to take.
What about something like the following?
"Did you know there's no commitment for using Netflix? You can change your plan [link] anytime.
And don't mention the cancel option because that's well-enough implied by "no commitment."
Lessons learned
In conclusion, authenticity can go a long way as we've seen from other brands that speak to us like friends and not marketers.
Thank your customers for their loyalty. In a world with so many options, even Netflix should be appreciative of customers sticking around. This email had no appreciation.
Tell your customers how they've benefited. For the price of one discounted Blu-Ray movie, look at everything you get!
Make it easy to cancel, but don't dangle that carrot over the customer's head.
Now, please excuse me while I sign up for Hulu who just lowered one of their prices.
Photo by Victoria Heath on Unsplash