If you've seen Fixer Upper or any other home renovation show, then you've likely seen shiplap. Joanna Gaines is said to have brought this style to the spotlight in the past several years and countless homeowners have followed the shiplap trend.
When Julee and I decided to transform a wall with shiplap, I was a little nervous it would turn out like the pros. Now that we're all done, I'll explain how we did it.
We did more than just throw shiplap on the wall. Our living room has two columns extending from one of the walls. They've been a thorn in our side since we first moved in. They are randomly placed and because this is the best wall for the TV, it's been difficult to get a TV and stand to work nicely with the columns.
As I mentioned in a previous post, we had two other columns between the dining room and living room that turned out to contain drain pipes for an upstairs bathroom. Well, above these other columns on the other side of the living room is the master bath and we suspect that those columns are covering those drain pipes.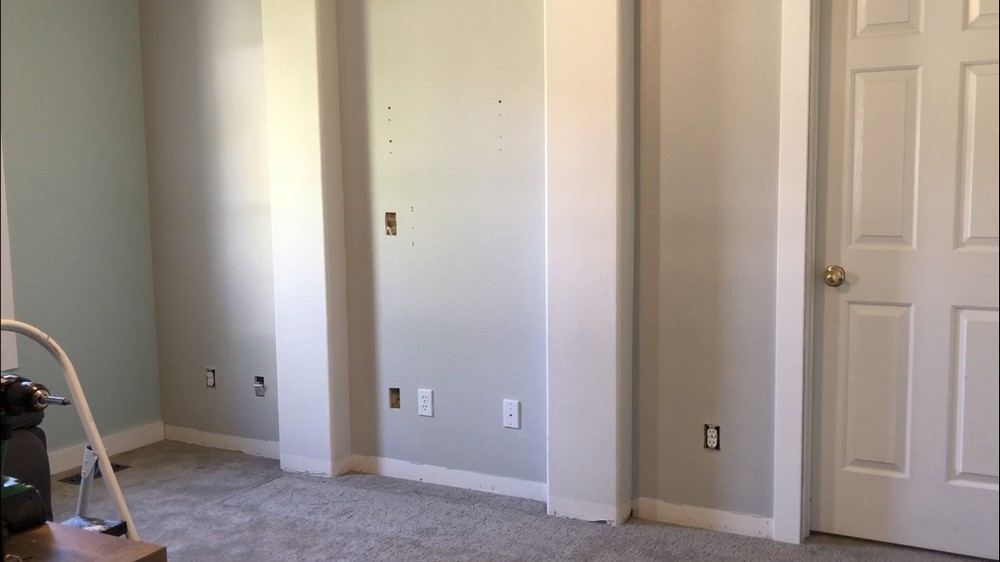 So, instead of tearing down the columns, we decided to fill in space in between them.
I started by hanging 2x4's across the columns. After adding a few more pieces for framing, I covered the 2x4's with sheets of plywood. I cut two small holes for wires and a larger opening at the bottom for easy access to outlets. Later, I'll show the door I made for this opening.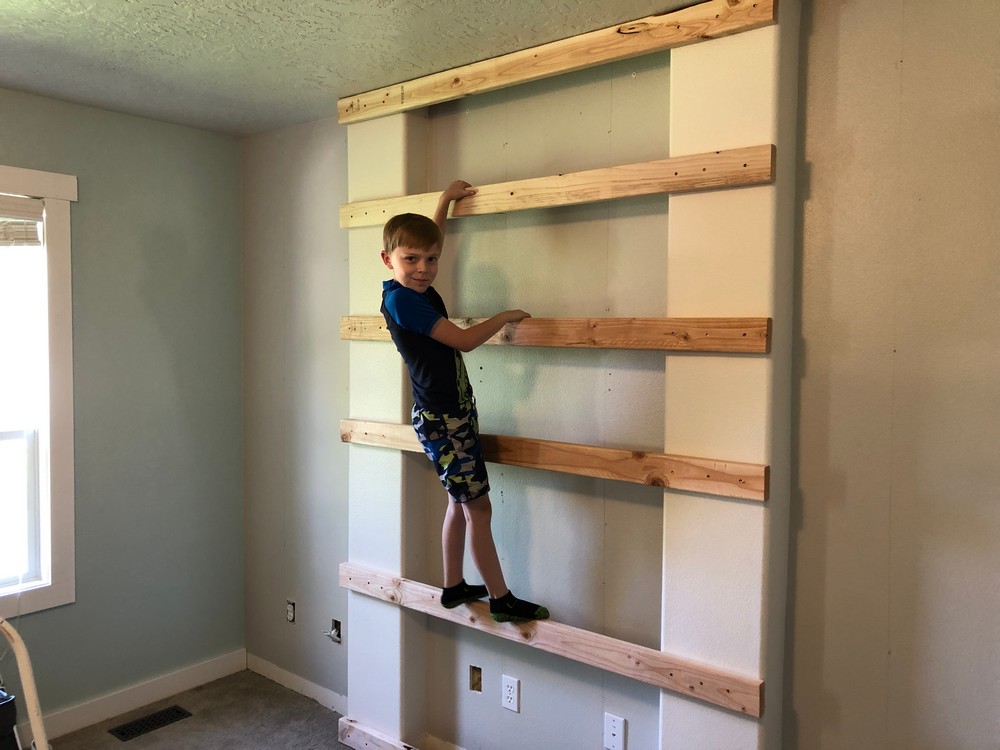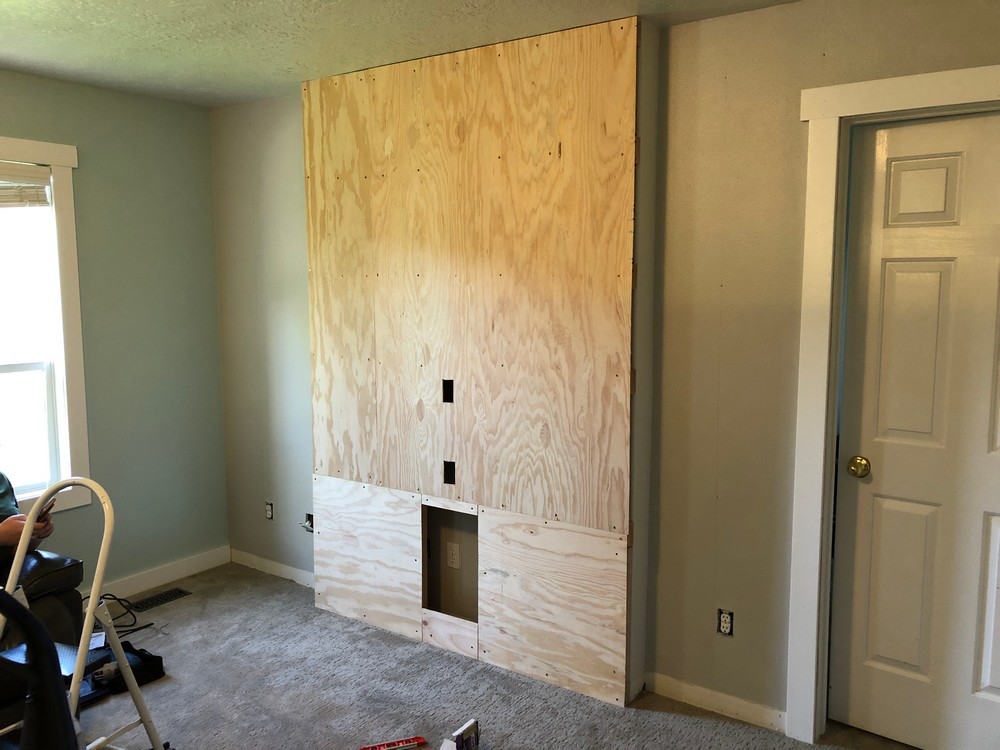 Actual tongue-and-groove shiplap is expensive, so to save money, we heard about others making shiplap out of plywood. So we tried it. We decided on 6" wide planks. Since I had bought 4x8 foot plywood boards, I had to use a circular saw for most of the cutting until the board was small enough to fit on the table saw. To make the measuring easy, I cut a small piece of wood to 6 inches long plus the width of the saw's guard. This would be the distance from the edge of the board to my "fence." I clamped the fence and then ran the saw along the edge to get a 6-inch wide plank.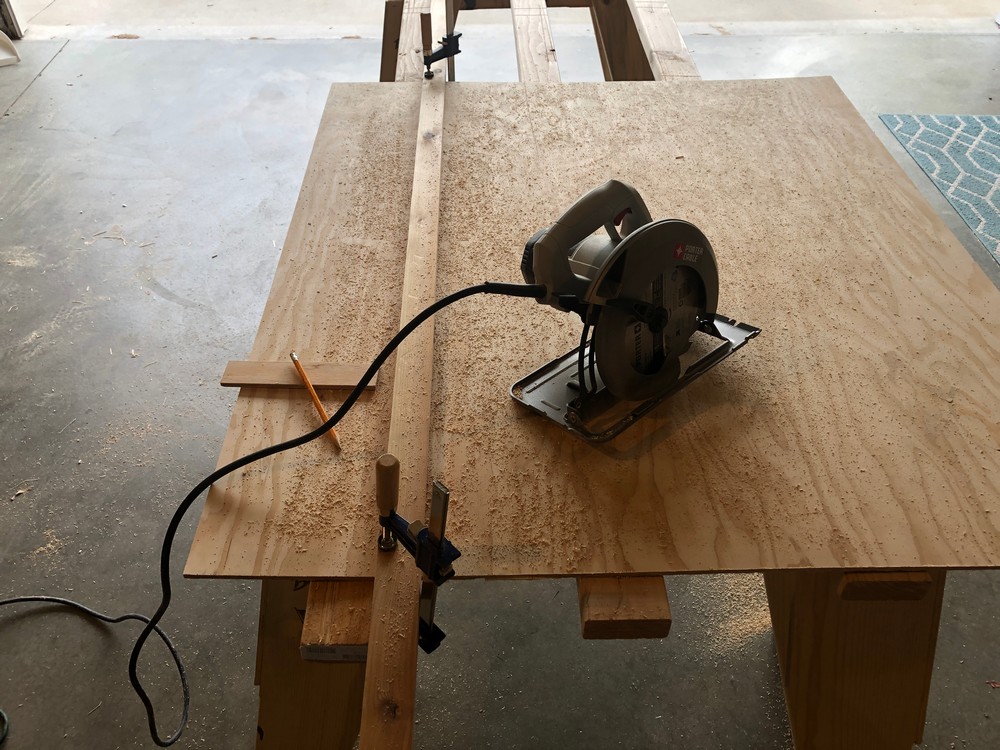 Starting from the ceiling we placed hung planks. Between each plank, we added a strip of paint so we wouldn't have to try and paint the small space in between later. To evenly space the planks we held a nickel in between while we nailed it in with a nail gun.
We were ok with having vertical seams between planks. It would have cost more wood to avoid as many seams as possible. My wife was strategic in where to place these seams, avoiding a stairstep look. Stairstep happens when multiple rows have seams that follow one another in one direction.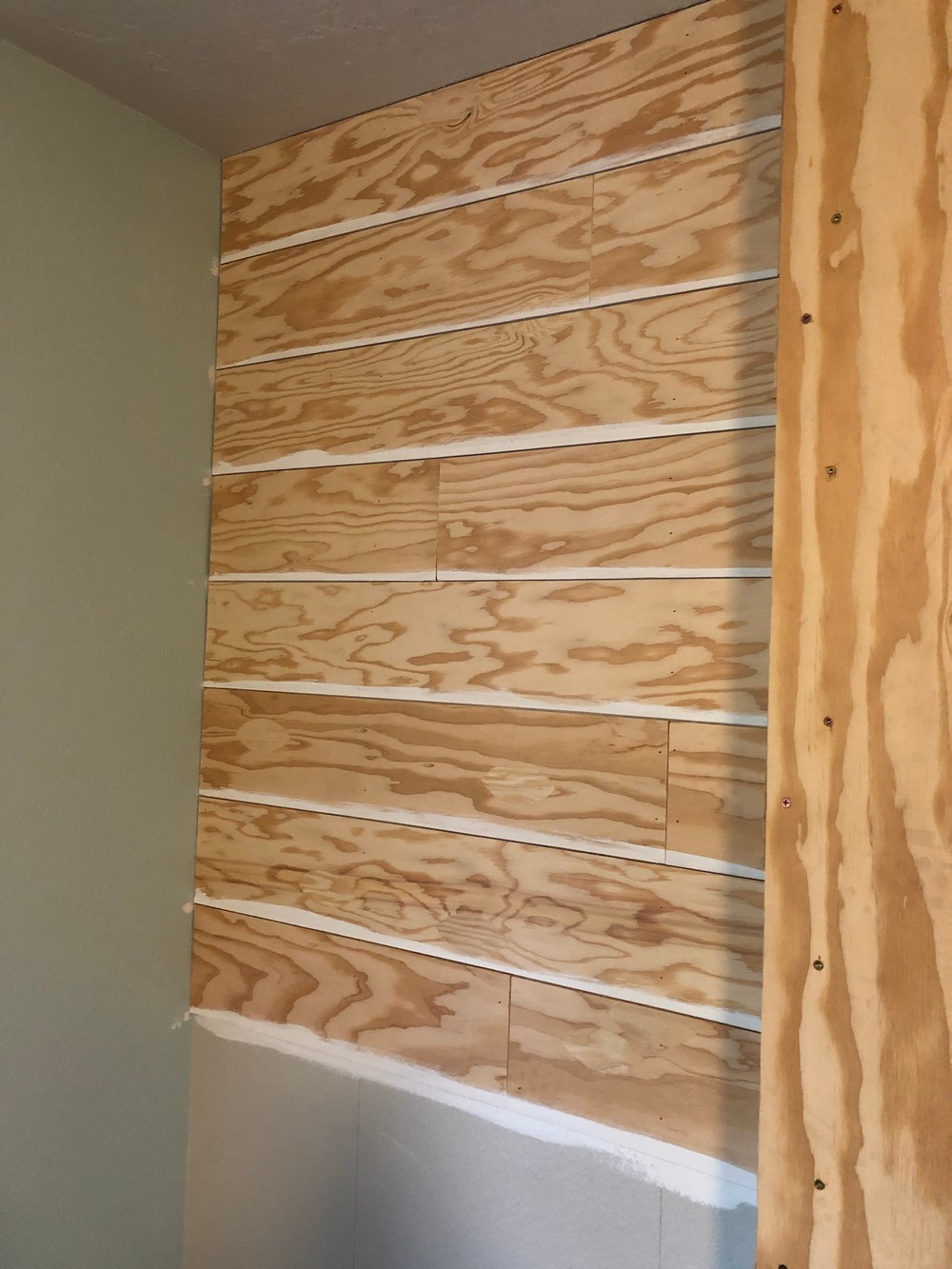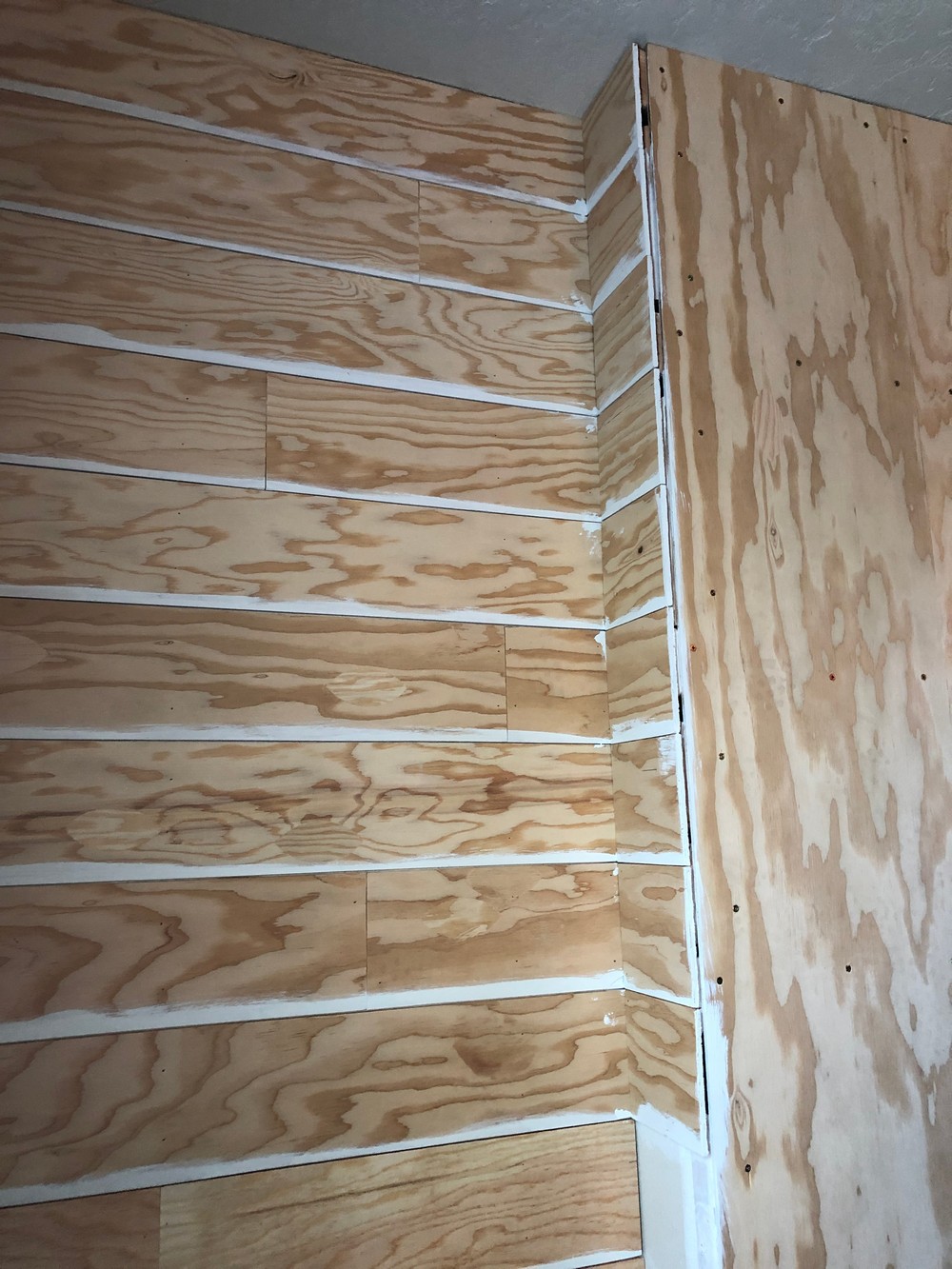 Some things I had read prior said to not put door trim and baseboards on until after hanging the shiplap. I had already put up trim so we decided to work around it. Our trim is 3/4 inch thick, craftsmen style so I think that helped some. The cuts were easy to make to fit the planks around the trim corners.
Everything aligned okay. Here's the thing about shiplap -- it's not supposed to be perfect. In the tutorials I read or watched about shiplap, things were too perfect and some people seemed obsessed with getting everything aligned so. When you look at the shiplap Joanna Gaines and other pros install, it's far from perfect. That makes it easier for me if things don't have to be perfectly flush and smooth. The imperfect look of the farmhouse style homes, to me, feels natural, handmade, and simple.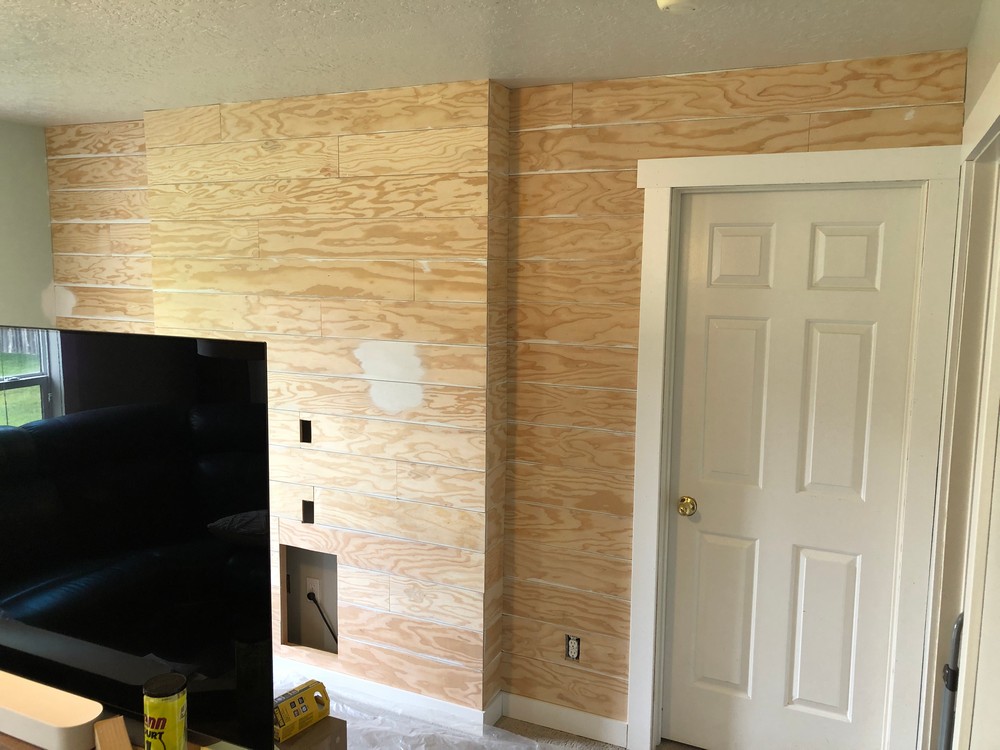 After hanging all the planks, we put one coat of white paint on. We wanted to make sure the grain of the wood showed through a little for a rougher, natural look.
To make sure there weren't any gobs of paint, we ran a kabob stick and putty knife through every spacing and crack.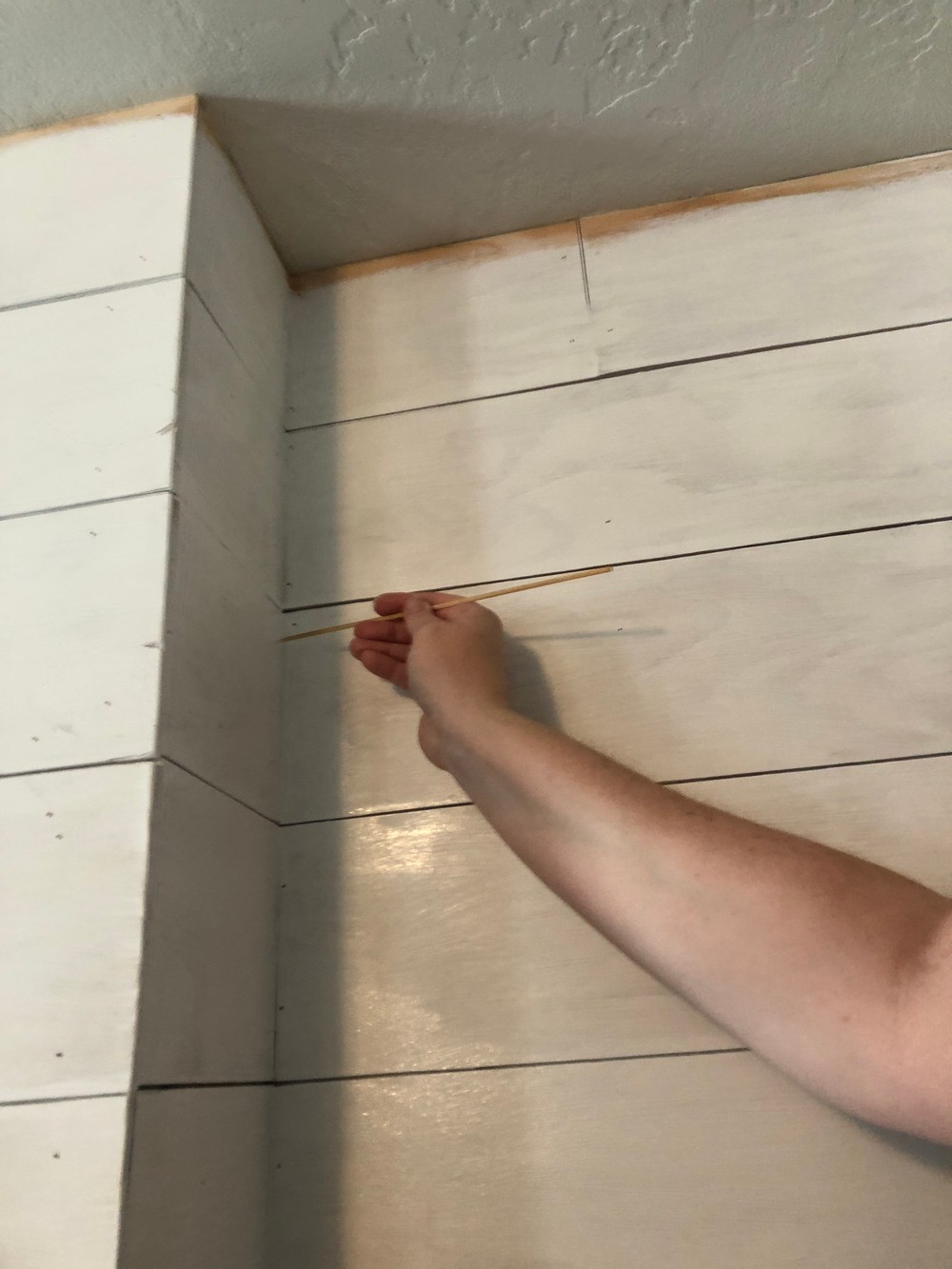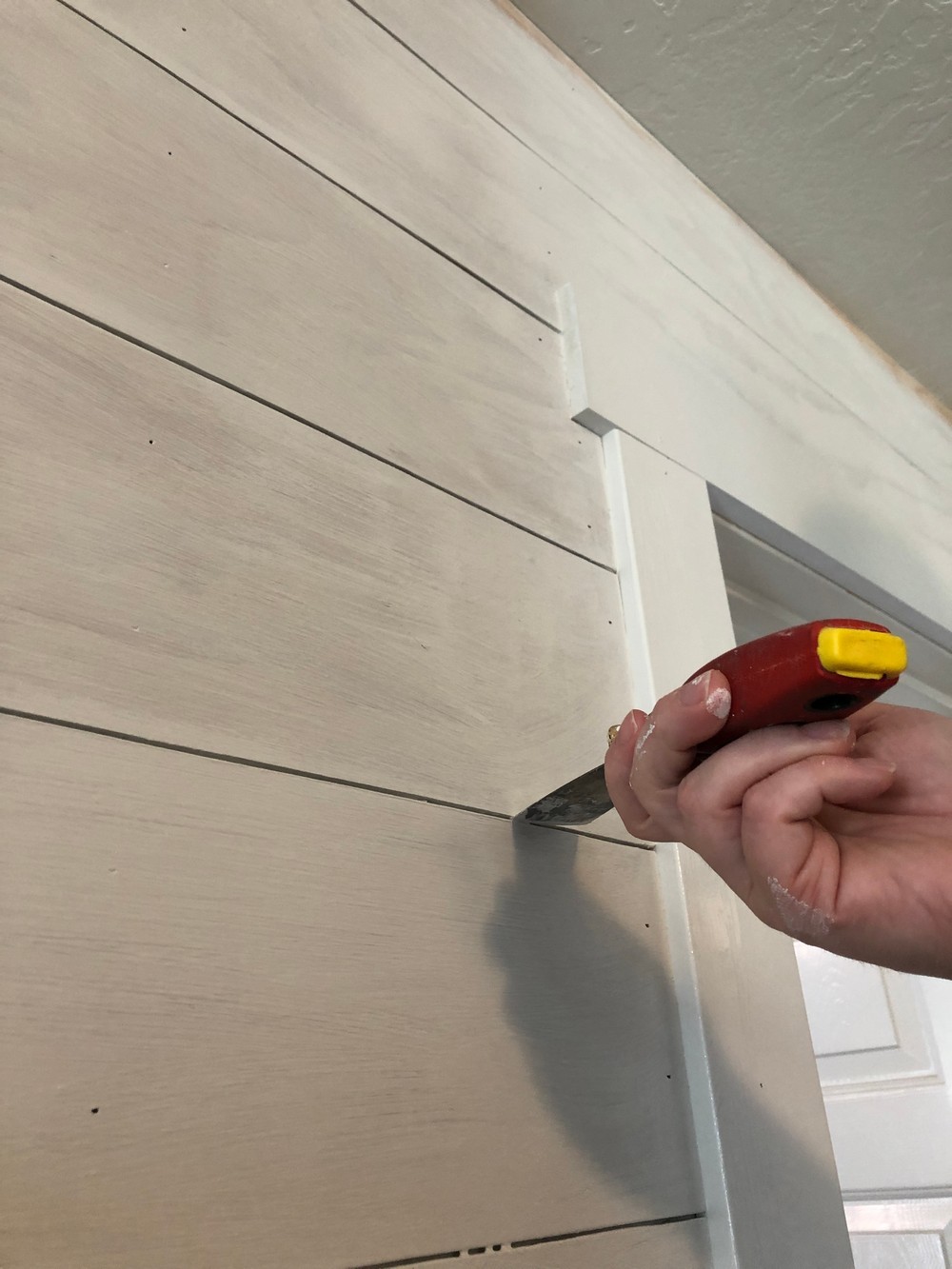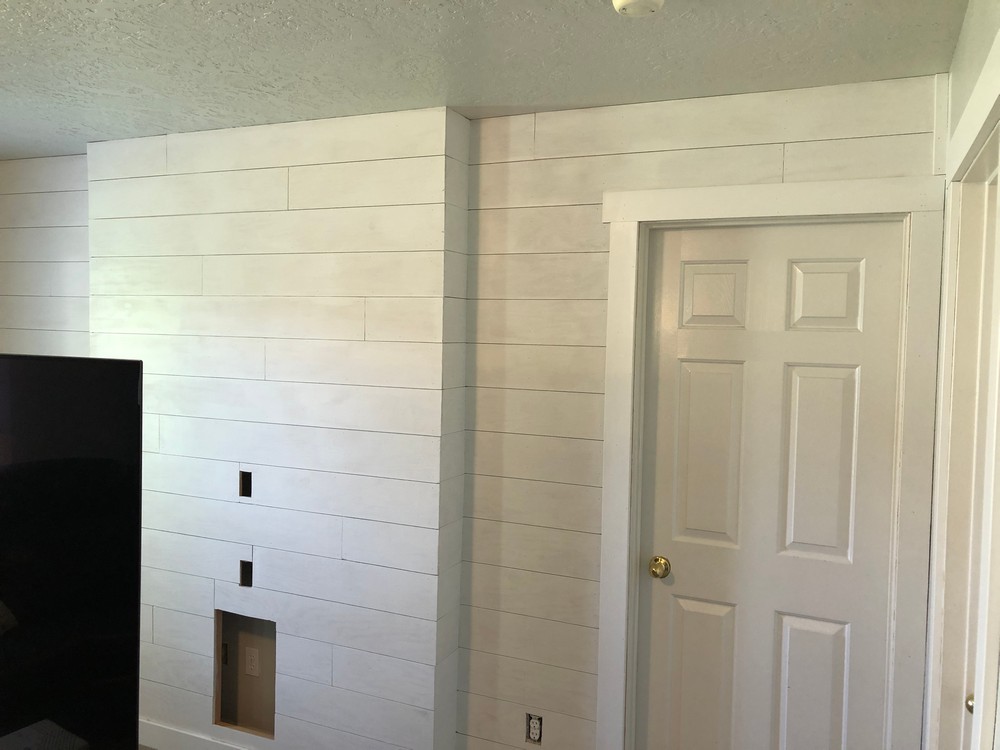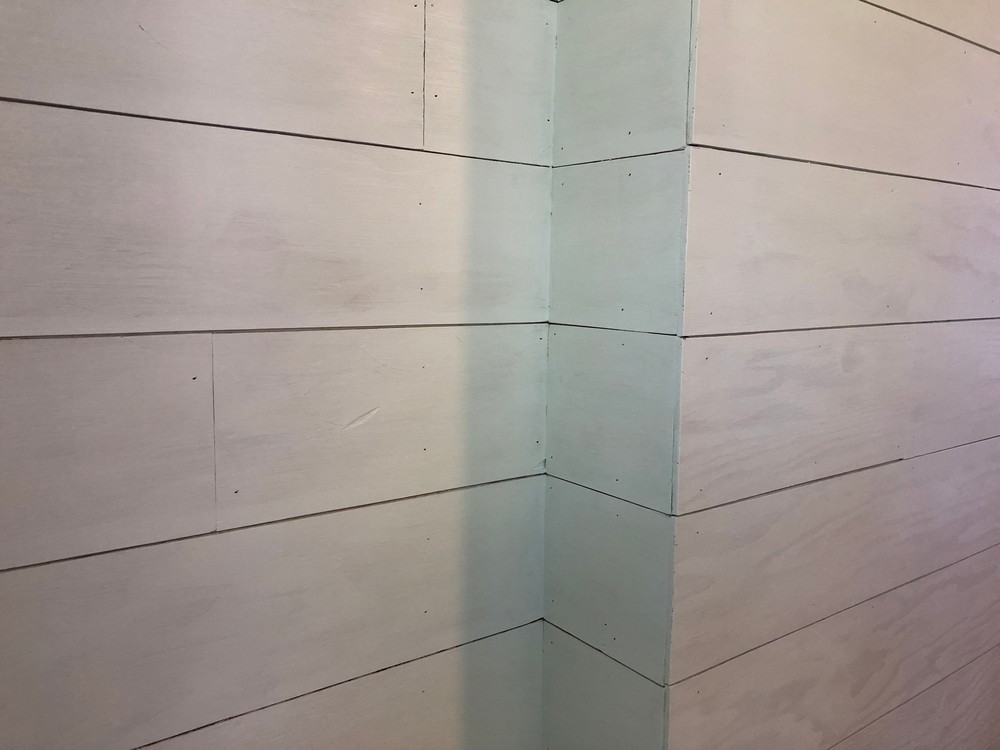 The last thing to do was to build the door for the outlet access. I cut a piece of plywood to match the hole and then placed planks that aligned with the rest of the wall. To avoid any hinges or handles, the door hangs by spring-activated magnets. Pushing the door in pops it out. It's not as cool as it sounds as the door turned out to be too heavy for the magnets and it's difficult to get into place. However, it stays put once in place and comes out by pushing on the door and activating the springs.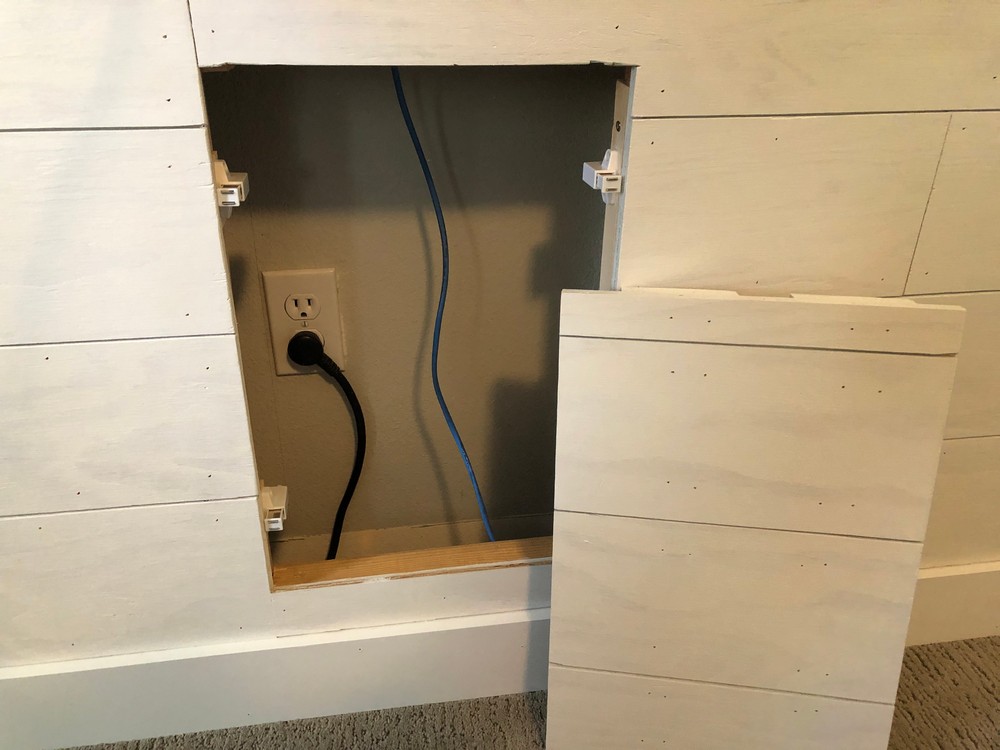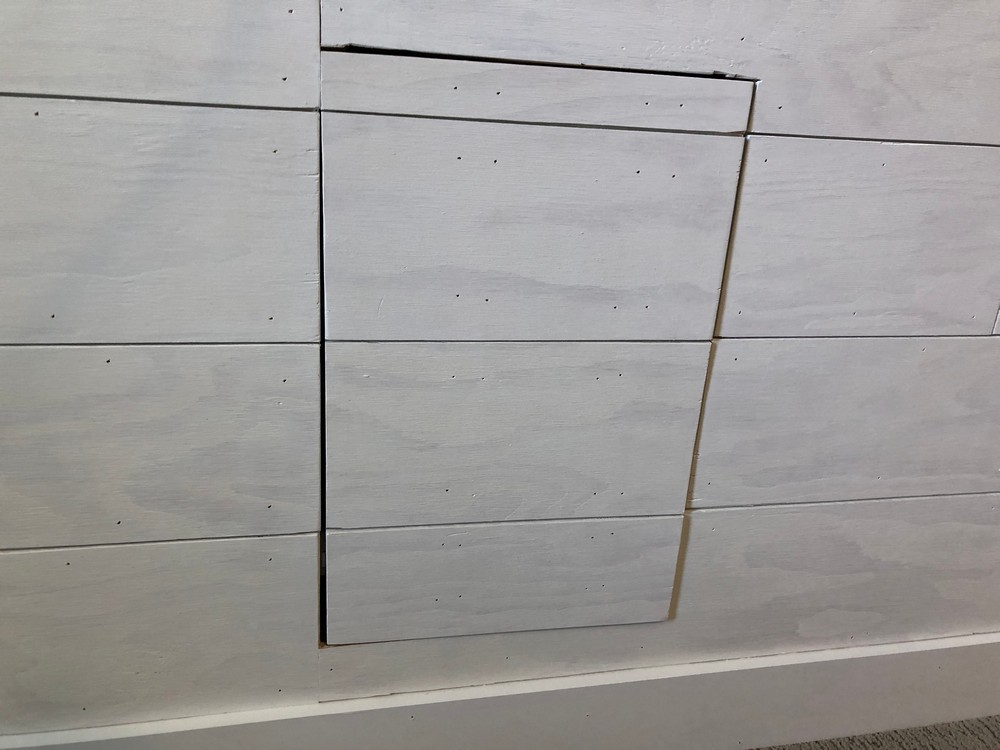 As a finishing touch, we decided to only put small trim along the sides where the wall transitioned to the regular wall. We left the top bear to give it keep with the rustic look.
We're happy with our shiplap wall. If I had to do it over again, I would paint the planks first.